Baja RV

Caravan Tours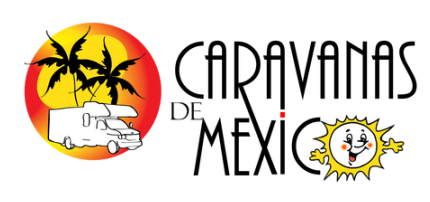 DISCOVER BAJA ON AN RV CARAVAN TOUR
Travel with us on a Baja RV Caravan Tour, and you will be amazed at what you see. The real Mexico you never knew existed, rather than the resort version. We are a Mexican based company and the only Baja RV caravan company fully registered and certified by the Mexican Government to operate inside Mexico. We cover both Baja and the Mainland. We do our own tours and do not use contractors, so you get more value for your dollar. All RV Parks are included, plus many tours and meals. If our Mainland caravans interest you, visit our other website by selecting "The Mainland" above.

Covid 19, has of course placed our trips next season in doubt. We still have 3 trips in the works for 2021, if possible. A 36 day Baja-Only trip leaving around Jan 8th. A possible 56 day trip contacted to us by the Airstream Club, would run on Jan 28th. (If that would be of interest to you, send an email to Michel Bourassa at rmbourassa@gmail.com). We are planning a French language trip in March. Details of that will be on our French site at https://www.caravanemexique.com. It will also cross over on the ferry. Pricing & itineries will be available in late February. You may express interest at the "book" link above. If we cannot run trips on schedule we are looking at running them a bit later in Spring, if feasible.

We are always on the lookout for new Wagon Masters, both for Baja and the Mainland. If it interests you, send an email to beddows1@telus.net.


Why use us?

We have 2 or 3 competitors in Baja. We are more expensive than 2 of them and cheaper than one of them. So why use us?

1) We are legally registered as a Mexican Tour Company and we operate fully legal in Mexico and we pay taxes in Mexico. We have strong ties to Canada as 2 of the 3 principle organizers in our company are Canadian. Although our public name is Caravanas de Mexico, we recently changed our business name to Caramex. See our business license HERE

2) We supply more tours than the other companies and we supply more meals, all of which are top quality.

3) We use professional registered bilingual tour guides. We do not run tours using our wagon masters as tour guides unless extra Ad Hoc ones are arranged. While many Wagon Masters are quite knowledgeable, they can in no way compare to a fully trained local guide.

4) We use quality transportation for our tours. We are an experienced bus tour operator as well as a Caravan operator

6) Two major RV Clubs have chosen us as the contractor for their Mexican Caravans.

7) We use the Green Angels (Mexican version of AAA) as tailgunners & mechanics.

8) We price in both US and Canadian dollars and you may pay in either currency. For Canadians this means not having to take a buy/sell exchange hit.

9) We have run many RV Caravans on the mainland. We have a very high rate of repeat customers.

10) We can deal with any problems, in Spanish, with officials on their level. In other words we have an "in".

So we truly believe we are the best bang for your buck.




What our Customers have to say !!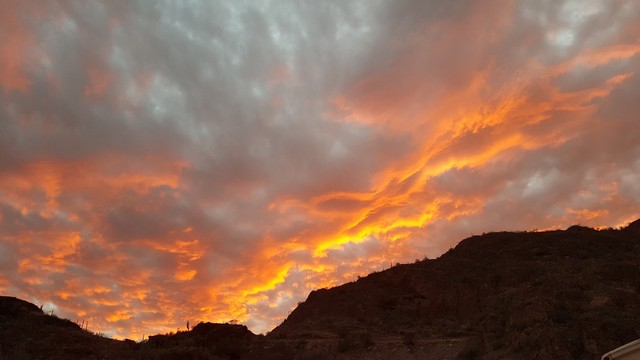 Fantastic Sunsets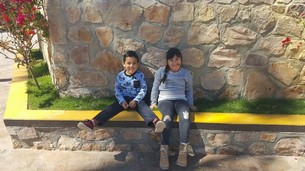 Cute Kids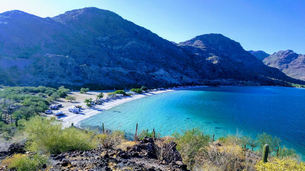 Beach Camping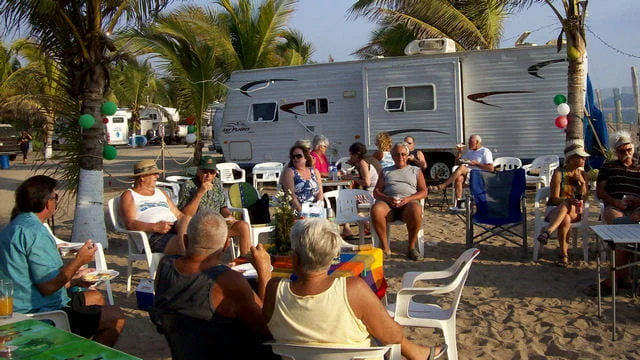 Happy Hours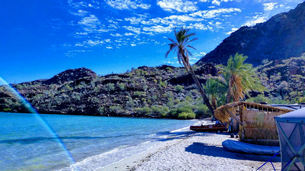 Paradise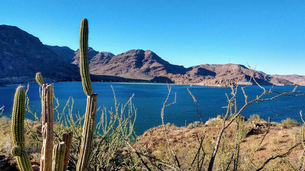 Desert & Sea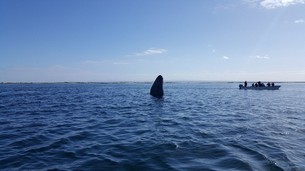 Whale Watching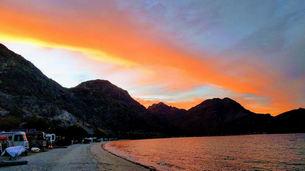 And Sunrise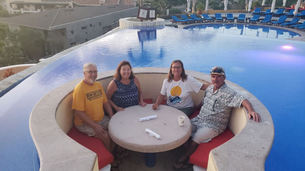 Pools at some stops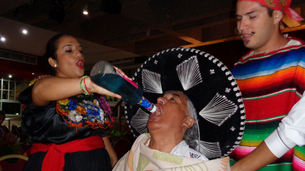 Fun Times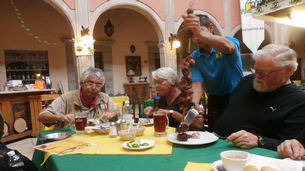 Fantastic Meals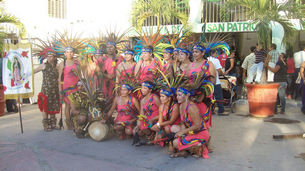 Festivals

.
.
If you have never been on an RV Caravan, maybe it's time to add this to your bucket list. What better way than to join an RV caravan to an exotic location. Most people have never taken their RV's to Baja. They do not know what they are missing. A Baja RV Caravan tour is a safe and great way to see the "Real Mexico". Many of our customers become hooked and return every year to a favorite RV Park. Caravanas de Mexico is the only company operating RV Caravans covering Baja and all of Mainland Mexico (In English). An RV Caravan Tour to Baja will be a once in a lifetime unforgetable experience. We have been operating RV Caravan Tours for many years, and have been the contractor for many other caravan companies like Adventure & Fantasy. We are based in Mexico and we only serve Mexico. We know Mexico, because we live here. Our prices are about 25% lower than other companies and we offer a higher quality experience for your money. We have a vast network of government certified bilingual tour guides. We also offer RV Caravans in French.

Our customer orientation representative has written many magazine articles on Mexico. Here are a couple of samples:

RV Life - Melaque
Trailer life - RVing in Mexico
RV Life - Is Mexico safe?


Our Facebook Page